TOURIST DEVELOPMENT
The Need to Attract More Visitors
Some time ago, we all became concerned that Main Street was losing some of its businesses. Fewer visitors have been coming and those that do come, often don't stay for long. This has had an impact on Main Street businesses. The Community Council, along with other groups in the town, has been working to understand this and find ways to fix it. Several things were learned quickly: the economy of the town has its ups and downs, but this down was deeper than usual; there are a number of quick fixes that might help, but only to a small degree and none of these is within our control. We concluded that rather than turn the clock back 5 or 10 or 30 years, what we want is a 21st century approach: something forward looking.
It's Not All Bad
The community itself is thriving in many ways: there are ambitious and impressive projects that have happened and are happening. The hydro-scheme shows what can be achieved by the community. Currently there is a massive growing investment in our landscape – of funds and of volunteer time. These show that the community has vision, leadership and energy. In this context, the Community Council began to think about large-scale ways forward to integrate and co-ordinate to re-invigorate the economy of the town.
Imagine a New Concept for Callander: Climate and Community Experience
We began to focus on the idea of a major new visitor attraction: something to express what Callander is and what it is to live here. This became part of a bigger concept: to make our area a place where visitors come to see for themselves how climate affects communities – in the past, in the present and into the future. We believe that Callander has a perfect location for this: the landscape around us and how people live and work in it provide a great way of showing why climate matters for communities. Extreme climates formed our landscape; climate still shapes it. The community has always had to adapt itself to the climate.
Just to get the concept, imagine we had a network of iconic observation points around Callander, interlinked by a network of trails and the whole thing covered by powerful wi-fi to deliver information to visitors. One of the observation points might be a shelter somewhere on the Crags, reached by a 21st century version of the chair-lift, giving a bird's eye view of our town and how it sits in its landscape Another might be a centre by the river giving people a way to see inside the river and river bed. A third might be a wooden tower somewhere up in Coilhallan where people could climb up through the tree canopy and experience the weather that comes to us down Loch Venachar.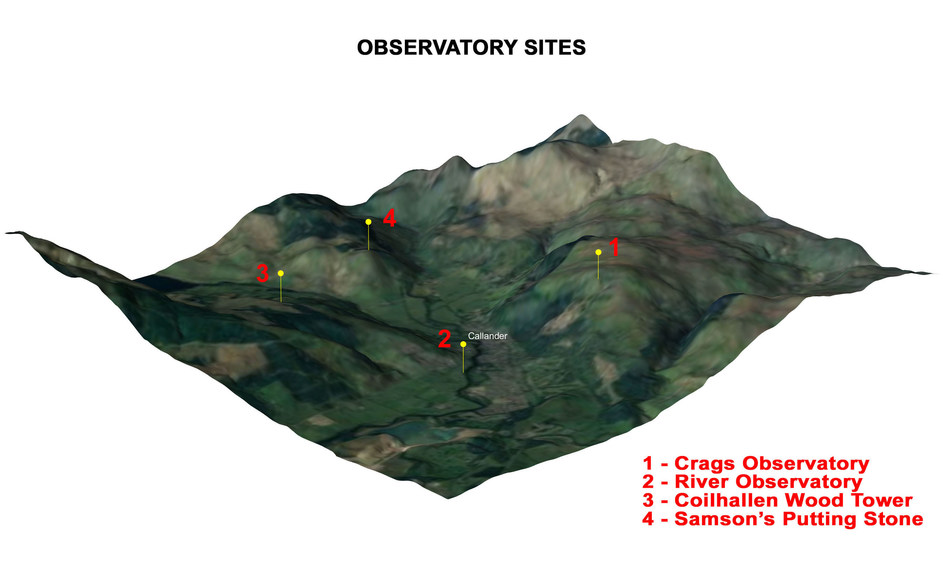 Then imagine that we have networked reality systems linked into this: high-tech head-gear that allow visitors to superimpose extra information on what they are seeing: where the water is in our environment and how it is moving, or where the carbon is, or where traffic is. Imagine standing on the top of the Crags and seeing rain falling and flowing down the hillsides into the rivers.
We want to get the concept right. We want it to belong here in our landscape and our community. We want to feel that it matters for our visitors, giving them real enjoyment and great experiences but also some insight into our world. We need the concept to be unlimited in its scope: to have a life of decades with endless opportunities for further development. And we want it to be unique. Callander was once the place to visit to see a sublime landscape. Callander could become the place to visit to use that landscape to see the interplay between climate and community.
Over to you:
We want to hear what the people of Callander think about this concept.
Does it interest or inspire you? It is very ambitious, but a long-term plan for the future of Callander needs that level of ambition.
Have you got further suggestions? We certainly haven't got a monopoly on ideas and would really like to hear anyone's thoughts.
Are you already involved in something that might link into this? We really hope that this brings extra possibilities to the great things that are already happening in the town.
How to find out more:
We have started a website with more detail: callanderclimatecommunity.wordpress.com
How to contact us about this project:
Callander Community Council
c/o Visitor Information Centre,
Main Street,
Callander