News
It is our aim to use this panel to bring you up to date news of things that affect our community.

Our next meeting: 9 August 2021
The National Park have issued some new information about the Bracklinn Bridge closure and their planned action on this link:
Camp Place Play Park Progress

Public Notice, 5 July 2021
Public Notice, 28 June 2021
Callander Community Council currently has vacancies for two new co-opted members to join the existing Council.
FROM: Callander Community Council 24 June 2021
TO: The whole Callander community
CONTACT:
The open contact email for Callander Community Council has now been restored at Callandercc556@gmail.com
COMMUNITY COUNCIL
You may have seen or been told that several members of the Callander Community Council have resigned during the last week, posting their individual reasons on social media and quoted in the press.
As the ongoing elected members of the Community Council, we regret the way this has given rise to public confusion and some misinformation. We also want to thank them for their hard work over the past many years.
We would like the community to know that we are currently in discussion with Stirling Council and hope to see a new and representative range of members joining us. In the meanwhile, we will continue to work together in response to the developing post-COVID 19 needs of Callander.
Our aim is to encourage and provide a forum for public discussion, as well as identifying those areas where we can produce practical results by working openly together across the community.
We will keep you updated regularly through Facebook, our website and will welcome your input and comments through the email address.
Moe Guertin, Susan Holden (Chair), David Moore, Marilyn Moore, Olga Watkins, John Watson
Callander Community Council
Email: Callandercc556@gmail.com
Website (Official): https://incallander.co.uk/ccc_home
Facebook: https://www.facebook.com/ourcallandercommunitycouncil
Citizen of the Year and Award for Outstanding Citizenship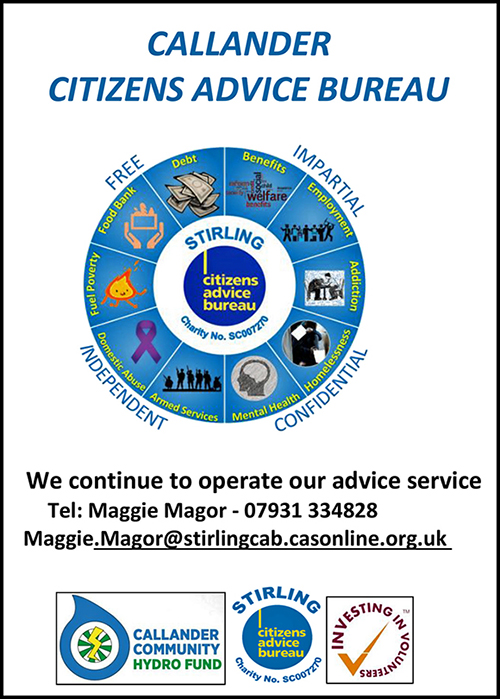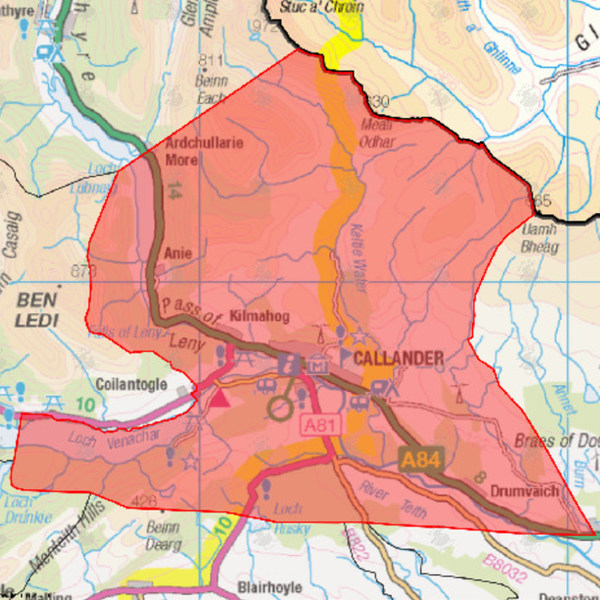 Welcome to the website of Callander Community Council
In here you should be able to discover all you need to know about your Community Council and what we are doing on your behalf.
If you want to know more about the Community Council and your Councillors, together with a description of our duties and responsibilities then go to the 'About Us' section. All members of our community are welcome to attend our monthly meetings to find out about what is current, but if you are unable to do so, you will be able to read the Minutes of all of our meetings and individual Councillors' reports by going to the 'Meetings' section.
One of our responsibilities is to comment on planning applications as they arise. More information on this process as well as details of current applications can be found in the 'Planning' section.
Your Community Council also administers a fund, known as the 'Airtricity Fund', which enables us to make small grants to organisations that have projects that comply with the application criteria. To find out more, go to the 'Airtricity Fund' section.
From time to time, major projects arise that could have a significant impact on our community. Your Community Council has a role to play in ensuring that the community's views are taken into account. Details of existing projects are to be found in the 'Current Topics' section.
Callander's Community Action Plan is an important element in the future development of our town. How this is progressing and who is doing what can be found by visiting the 'CAP' section and by visiting the CCDT section of the InCallander website
If there is anything you would like your Community Council to be aware of please contact us.