News
It is our aim to use this panel to bring you up to date news of things that affect our community. For the time being it is likely that the news will be dominated by Coronavirus matters. Click or tap on the headline to get the details.
Callander Community Council Vacancy
A81 Road Closure – 14th July to 4th August 2020
A821 between Kilmahog and Aberfoyle
Community Council Meeting – Monday 10th August 2020
The next meeting of the Community Council will be held on Monday 10th August at 7.30 pm. As with recent meetings and due to the Covid-19 situation, this will be a 'virtual' meeting held on Zoom. All members of the public are entitled to attend these meetings and if you wish to do so, here are the Zoom joining details:
Meeting ID: 840 8364 8048
Passcode: CCC2008
To join the meeting, simply click on the above link. If asked, input the Meeting ID and Password shown above.
The agenda for the meeting can be obtained by clicking here.
Callander & District Horticultural Society (CADHS) Garden Competitions 2020 – click here for further information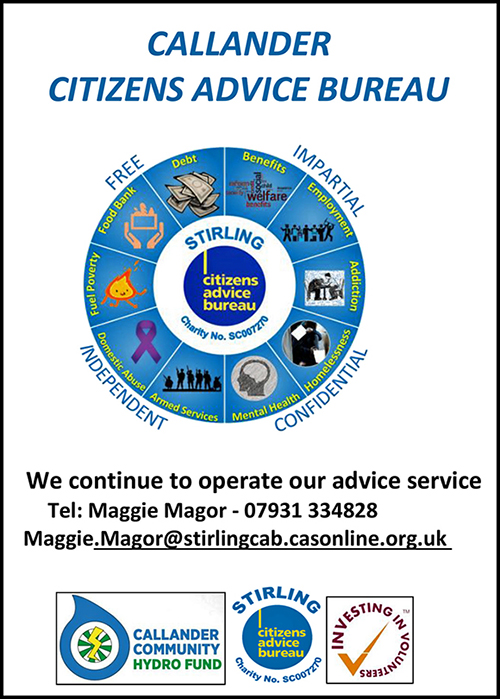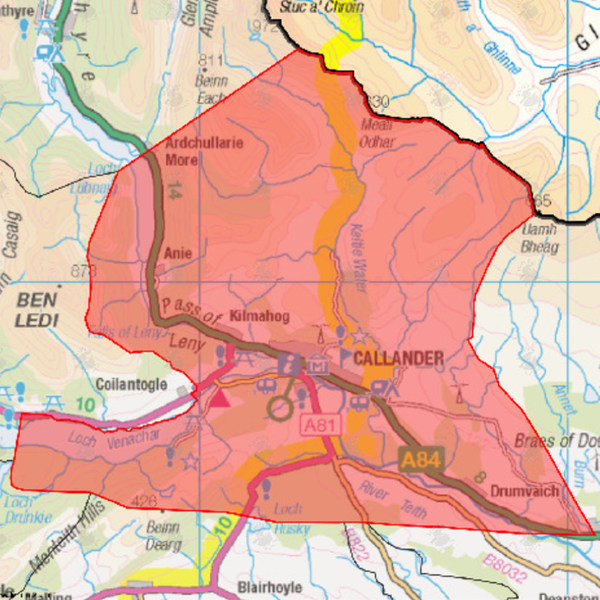 Welcome to the website of Callander Community Council
In here you should be able to discover all you need to know about your Community Council and what are doing on your behalf.
If you want to know more about the Community Council and your Councillors, together with a description of our duties and responsibilities then go to the 'About Us' section. All members of our community are welcome to attend our monthly meetings to find out about what is current, but if you are unable to do so, you will be able to read the Minutes of all of our meetings and individual Councillors' reports by going to the 'Meetings' section.
One of our responsibilities is to comment on planning applications as they arise. More information on this process as well as details of current applications can be found in the 'Planning' section.
Your Community Council also administers a fund, known as the 'Airtricity Fund', which enables us to make small grants to organisations that have projects that comply with the application criteria. To find out more, go to the 'Airtricity Fund' section.
From time to time, major projects arise that could have a significant impact on our community. Your Community Council has a role to play in ensuring that the community's views are taken into account. Details of existing projects are to be found in the 'Current Topics' section.
Callander's Community Action Plan is an important element in the future development of our town. How this is progressing and who is doing what can be found by visiting the 'CAP' section and by visiting the CCDT section of the InCallander website
If there is anything you would like your Community Council to be aware of please contact us.