Steamship Sir Walter Scott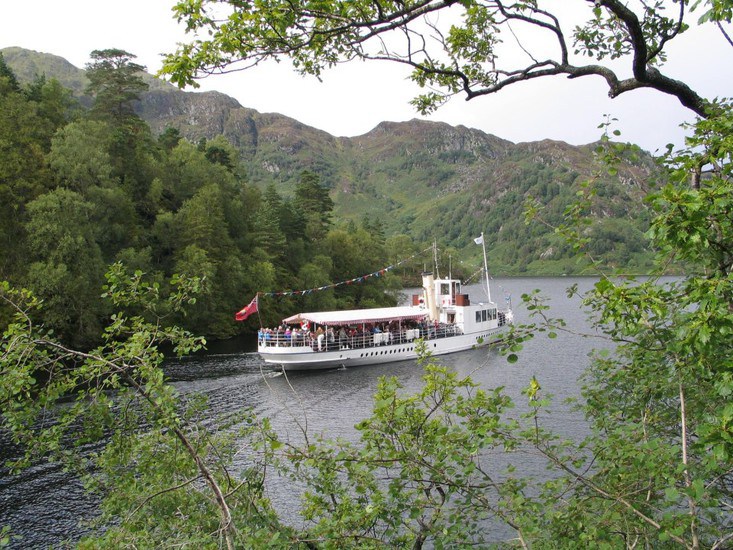 Steamship Sir Walter Scott on Loch Katrine, from the gaelic for "highland thief or robber", is undoubtedly one of Scotland's special places. Set against the backdrop of The Trossachs, the loch is surrounded by hills, mountains and woodlands.

Loch Katrine is Glasgow's freshwater loch. At almost 9 miles long and running the width of the Strath Gartney, it is a favourite tourism destination for avid adventurers, international tourists and families throughout the year, many of whom come for a cruise on our famous steamship, Sir Walter Scott.

Loch Katrine is a host to pretty much every outdoor activity imaginable from hiking and biking to climbing and bird watching. The Trossachs woodlands and forestry call out to anyone with a sense of adventure. For more information of what the Trossachs can offer you, explore the Trossachs Website.

Easily accessible from cities such as Glasgow and Edinburgh, the loch serves as the perfect starting point for those on a Trossachs adventure. Its proximity to Glasgow serves the city well as Loch Katrine is the primary water reservoir for Glasgow and the surrounding areas. This role has benefited Loch Katrine from an environmental standpoint, as changes to its steamship's operation have been made to preserve the water quality and consequently the wider landscape.

Loch Katrine itself provides accessibility for all. Most facilities at Trossachs Pier are on one level, with a lift providing wheelchair access to the restaurant. The roadway along the northern shore of Loch Katrine has a relatively flat tarmac surface and is quiet, as it is not open to public traffic, which makes it the ideal alternative route to the other end of the loch. You can hire bikes and buggies from Katrinewheelz at the Pier, or take a cruise on the steamship Sir Walter Scott, which is wheelchair accessible and provides live commentary. Bikes can be booked on board the vessels so you can take a cruise up the loch and cycle back.

Loch Katrine's status and beauty has attracted historical and artistic icons to The Trossachs over the centuries. Queen Victoria launched the pioneering water service, which earned The Trossachs its reputation as a much desired tourist location for the Victorians.

With close links to stunning surrounding areas such as Glengyle and Stronachlachar, Loch Katrine's historical roots deepen even more. From Rob Roy MacGregor and William Wordsworth to unofficial Loch Katrine patron Sir Walter Scott, Loch Katrine has come to represent Scotland's beauty and rich heritage.