Nether Glenny Cottages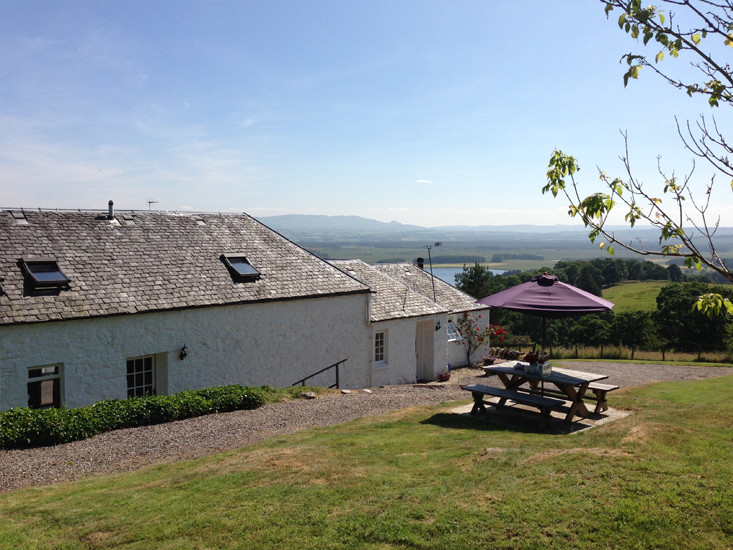 About Nether Glenny
The Nether Glenny Farm is situated in a prominent location above the Lake of Menteith in Central Scotland. We are approximately 3 miles from Aberfoyle and 6 miles from Callander. There are 2 beautiful self catering cottages and one BnB studio as well as the main house on the farm. The cottages, Kestrel and Buzzard offer spectacular views out across the Lake of Menteith and the surrounding Stirlingshire countryside. Nether Glenny is located within the Loch Lomond and Trossachs National Park. The cottages have wood burners as well as central heating and are furnished very tastefully and to a high standard. Original art by Michael Murphy is displayed.
Kestrel Cottage
Kestel is a beautiful one bedroomed cottage ideal for a romantic holiday. Guests can enjoy panoramic views over the Lake of Menteith from their private outdoor seating area, dining room and lounge. A wood burning stove and beautiful decor make this cottage very cosy. Kestrel sleeps 2 adults and an infant bed / cot can be set up. We can accept well behaved dogs in Kestrel cottage by prior arrangement.
Buzzard Cottage
Buzzard cottage is converted byre and as a result you will find that it has a very unique appeal. This is an ideal cottage for a family or group to have fun, adventures and relaxation. There is a large open plan living area downstairs comprising of a lounge, kitchen and dining area. A two story cottage, it has two large bedrooms with ensuite bathrooms and sleeps 4 - 5 . Buzzard is spacious, well equipped and tastefully decorated. It is an ideal space for friends to socialise after a day of sightseeing, mountain biking or hillwalking. Original Art is displayed throughout.
Merlin B&B Studio
Merlin is a luxury B&B room nestled between two cottages. A chic and elegant space with high quality furnishings throughout, it contains a bedroom, shower room, and kitchenette and breakfast bar area with wall mounted TV. You'll find a delicious continental breakfast in the fridge on arrival to be enjoyed at a time that suits you.
The Surrounding Area
The area is well known for it's natural scenic beauty and the lochs are famous for water sports, including water skiing, wind surfing and sailing. If you enjoy Hill Walking, Cycling, Mountain Biking, Fishing, Golf, Sightseeing and / or are looking to combine these activities with fantastic fun for children, the Cottages at Nether Glenny are ideal locations for your perfect holiday.
Near the village of Port of Menteith is a jetty where a boat can be called to take you to the island of Inchmaholm on the Lake of Menteith. On the island are the ruins of Inchmahome Priory - a ruined Augustine priory where the young Mary Queen of Scots is reputed to have stayed as a child.
Callander with its shops & restaurants is only seven miles away and Aberfoyle is just four miles. Loch Katrine can be reached via the very scenic Duke's Pass via Aberfoyle or via Callander and the Trossachs road at Kilmahog.
The nearby Lake of Menteith hotel offers our guests a 10% discount.