Leny Estate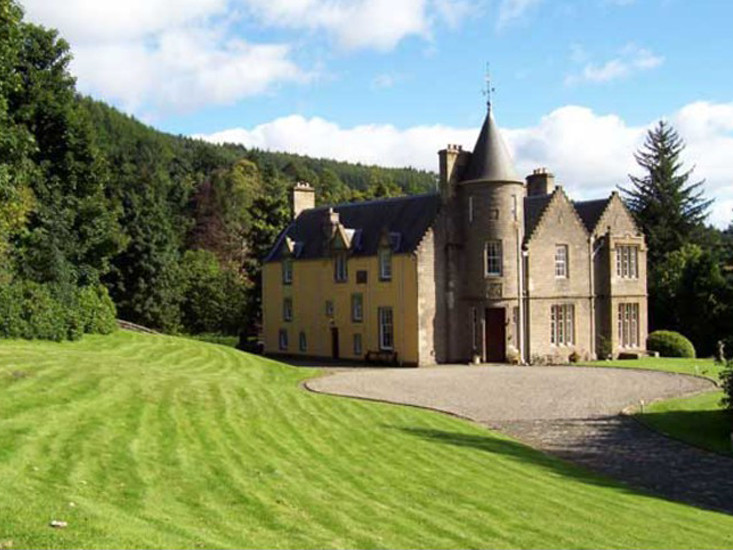 The North Wing Castle Suite
This is the baronial North Wing self catering castle suite within Leny House, it provides a luxurious apartment for your enjoyment.
BARONIAL LOUNGE WITH OPEN FIRE
The splendid main hall has the stonework exposed and brought to life, oak galleries and beams reproduced and the ornate, decorated panelling and cornices replicated and extended. The entrance contains original oak timbers and reclaimed oak was used to restore the balustrades and galleries.
The open fireplace in the medieval hall encloses an iron firebasket and decorated canopy that recalls the style of the period. Picture yourself sitting before a log fire with a dram of single malt whisky, candlelight illuminating the stone walls and oak panelling.
UPPER MEZZANINE DINING AREA
The upper mezzanine area offers a beautiful place to relax and read a book in one of the window alcoves or indeed gaze over at the grandeur of the main hall with it's huge arched stone fireplace.
FULLY EQUIPED KITCHEN AND DINING AREA
The kitchen is spacious and fully equipped with modern appliances installed in oak cabinets to preserve the character.
MASTER BEDROOM 2 (EN-SUITE)
This lovingly restored and beautifully decorated bedroom houses a massive, 5ft wide, draped 4 poster bed and is furnished with lavish antiquities and decorative features. It has a large walk in wardrobe and a large ensuite bathroom with separate shower, bath, hand basin and WC.
MASTER BEDROOM 1 (EN-SUITE)
This beauftifully decorated room has been restored to a high standard and finished with huge 4 poster bed with heraldic drapes. This bedroom is furnished with fine victorian antiques and offers comfortable luxury for the discerning resident.
The Gate House
Leny Lodge is the newest addition to the Estate. The lodge is a stunning fully refurbished 2 bed cottage with wood burner and own burn. Located at entrance to the estate with superb views to Ben Ledi. The open plan design of the Lodge makes it ideal for a relaxing visit with the benefits of french doors opening to the private garden area.
DOUBLE BEDROOM
Lovely Twin or Double Bedroom
DOUBLE BEDROOM 2
Double bedroom overlooking Ben Ledi.
LOUNGE
Lovely Lounge area with views over Ben Ledi with a Wood Buring Stove for those cosy nights in!
Self Catering Cottages
The self catering Scottish cottage accommodation comprises two charming Victorian semi-detached cottages in the grounds of Leny House in Scotland.
LOUNGE
The lounge area is south facing and contains ample comfortable seating for up to 6 people. Each lounge within our victorian cottages has an open fire (logs provided) , TV / DVD player.
KITCHEN / DINER
The well equiped kitchen contains a quality cooker and hob, microwave oven, fridge/freezer, toaster and kettle. The kitchen also contains a large dining table , ideal for breakfasts, lunches and evening meals. The kitchen contains all the crockery, utensils, cutlery, pots and pans that you will need on your stay at Leny Estate.
DOUBLE BEDROOM
The large and spacious cottage double bedrooms are well furnished with king size bed and ample storage for clothing. This double bedroom contains an en-suite toilet and shower.
TWIN BEDROOM
The cottage twin rooms offer a charming bedroom environment with twin single beds, dressing table and views over the valley towards Callander. Each twin has ample storage for your clothes.
BATHROOM
Each of our Victorian cottages includes a recently upgraded family bathroom with Separate bath and shower unit. Towels are provided.
DINING ROOM
Both Garden cottage and orchard cottage have large dining areas for eating with your party of group. Each has a dining table for 6 individuals with Orchard cottage having it's dining area located within a sun room overlooking the glen.
Log Cabins
Our six self catering Scottish lodges are constructed of solid spruce and are provided with south facing verandas and located on a peaceful site with views towards the Trossachs.
LOUNGE
The large comfortable lounge area within each lodge contains ample seating for 6 people including TV & DVD player. Each lounge commands lovely views across the estate. The three seater couch doubles as a fold down sofa bed for those with extra guests.
DINING AREA
The dining area is set within the open plan living area, A large solid wood table easily accommodates dinner parties of up to 6 or more. All crockery is supplied and is to an extremely high standard.
OPEN PLAN KITCHEN
The recently upgraded Kitchens within the lodges are well stocked with crockery, glasses, cutlery, pots and pans. Facilities include an oven / hob , dishwasher, fridge / freezer, toaster, kettle, washing machine and a microwave oven.
DOUBLE BEDROOM
These warm and comfortable double rooms have ample storage space for hanging and storing garments. Each double bedroom contains low level lighting, bedside tables and wash hand basin. Bedding and towels are supplied with the room.
TWIN BEDROOM
The twin bedroom in each of the lodges offers a cosy retreat for children and adults alike, each has ample storage and bedside lighting as standard. Towels and bed linen is provided.
BATHROOM
Each lodge contains a large tastefully decorated family side bathroom with bath / shower, separate WC and wash hand basin. Towels are provided.