Callander Hostel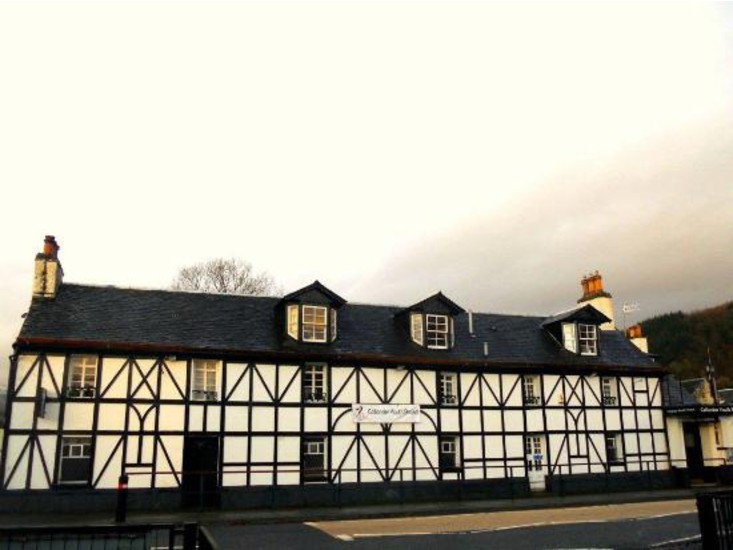 Set in one of Callander's oldest and most distinctive buildings, Callander Hostel offers a selection of private rooms and shared dorms (all of which are en-suite). In the dorms, each bunk bed comes with a utility board providing a reading light, plug socket and USB charging ports. The hostel includes a free parking area for guests and a garden with brilliant views across to the neighbouring Ben Ledi.

Indoors, the hostel boasts a spacious lounge, free WIFI and a well-stocked kitchen area.Cyclists and hikers are welcomed, with the hostel offering bike storage and a separate room for airing wet clothing. Towel hire is available, as is padlock hire for the lockers located in each dorm room.

Both individual rooms and the main entrance operate with electronic locks, meaning guests can access the building 24/7 using their key-fob.

Ethos

Callander Hostel is a social enterprise run by Callander Youth Project Trust (CYP). The hostel allows CYP to offer employability training and opportunities to young people from the local area, with the profits being re-invested in other CYP projects. More broadly, CYP provides youth services for people (aged 11-25) living within Callander and the surrounding area – incorporating a variety of activities and development opportunities.
Covid-19
We want to let you know about the changes we've made to help reduce our guests' risks in light of the Covid-19 pandemic:
Rooms: We are no longer offering shared dormitory accommodation – instead, we can now offer a range of different private rooms. All of these rooms also have their own en-suite bathroom and tea trays. We have a variety of different configurations to suit the size of your group:
1 x Twin Room
1 x Twin Room (with additional sofa bed)
2 x Family Rooms (2 single beds & 1 set of bunkbeds)
1 x Family Dorm (2 single beds & 2 sets of bunkbeds)
Cleaning Rooms: All private rooms will be deep-cleaned upon departure. We are also introducing a new cleaning protocol called 'fogging' – this has been specifically recommended to reduce the risk of transmission in light of the current situation.
Communal Areas: Whilst some guests will prefer to only use their private room, we understand that others will still wish to make use of our communal facilities (including lounge and kitchen). Although guests using these areas do so at their own risk, we have made several changes to help reduce this. We have reconfigured the lounge area so that each room can have their own table whilst still respecting social distancing guidelines. A private set of basic kitchen utensils (pots, cutlery, plates, etc.) can be hired for an additional charge and each room will also have their own allocated fridge in the communal kitchen. The utensils will be provided in a container and simply have to be returned upon departure, at which point they will be cleaned in the dishwasher.
Cleaning Communal Areas: We have multiple hand-sanitising stations throughout the building and all guests are encouraged to make use of these regularly. We will continue to deep clean the communal areas each day, however we will also leave additional cleaning materials in place so that guests can clean items/surfaces before using them.
Check-In & Payment: We have made changes to our check-in procedures to help safeguard our guests and staff. We are now using a self check-in system. Payment will be taken (at the latest) on the morning of your arrival date. All guests will then receive a text/email giving them a code, which they can use to retrieve their keys from the key box outside their room. We will email all guests 3 weeks prior to their arrival to explain all procedures.