Callander's Landscape presents The Sky Above Us
Join Callander's Landscape for a weekend of astronomical discovery, on the 14 and 15 March 2020.
Experience the immersive planetarium, take part in workshops, attend guest talks and film screenings, stargaze with astronomers.
All activities are free of charge but booking is essential.
Thanks to IOPScotland for funding this event.
Find out more about Callander's Landscape Dark Skies project >>>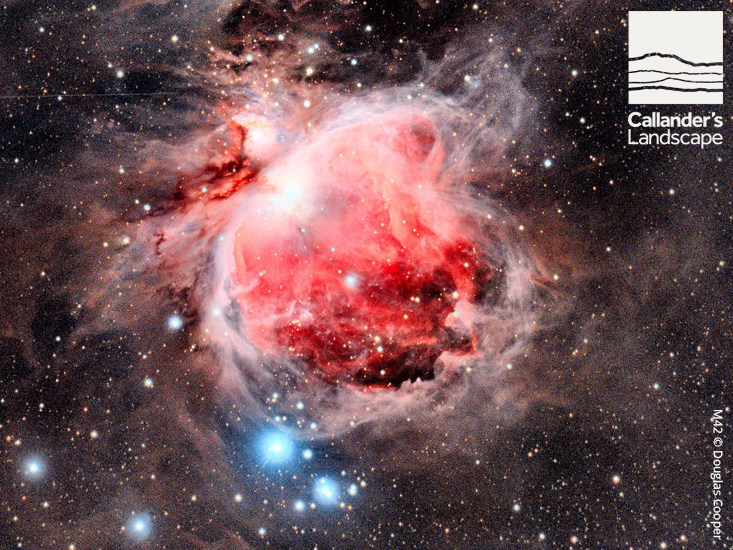 Unfortunately we have had to take the decision to postpone 'The Sky Above Us' for this weekend (Saturday 14th – Sunday 15th March). This decision has been made because of the Covid-19/Coronavirus outbreak. While Government advice on the cancellation of events does not refer to events of this size, we are mindful that people are being more careful and taking steps to prevent the spread of potential infection.
If you had booked to attend any of the events you will receive an email shortly. We will be rescheduling the event later in the year, so we will keep you all posted with regard to future dates.
Saturday 14th March 2020
Exploring the Cosmos, McLaren Leisure Centre, 12-5pm
Come along to our family day of astronomical activities. There will be lots to do, including immersive planetarium shows, virtual reality headsets, have a go at landing the Mars Rover and create some craters! All children under 16 must be accompanied by an adult. Planetarium shows will last approximately 45 minutes; after the show you will be able to try out the other activities. Please remember to book your timeslot in advance.
Planetarium Shows and Time slots
We are Aliens, 12pm and 3pm
The Search for Extra Terrestrial Life, learn about extreme lifeforms on Earth and the possibility of life elsewhere in the universe. On the journey we will travel to Mars with a robotic explorer, dive into a vast alien ocean and search planets orbiting other stars for signs of life. Followed by a tour of the night sky.
The 12pm show is an accessible / autism friendly showing. The full dome film volume reduced by 30% and dome capacity reduced by 50% so there will be plenty of space. Please let us know if you have any questions or any support needs that you would like us to be aware of.
Apollo & Beyond, 1pm and 4pm

This time travelling voyage of discovery begins back at incredible era of space exploration, the Apollo Lunar Missions. Incorporating "Capcom Go!" an immersive, historical journey that showcases the achievements of the Apollo program and what it took to put the first human on the Moon. We start in the past but will also journey to the present and into the future to explore the many possibilities of human and robotic space-flight.
Tour of the Cosmos, 2pm

Guide to what's in the night sky, learn how to navigate with the stars and find out what will be visible during The Sky Above Us weekend. We will take an immersive voyage of discovery around our solar system and the cosmos beyond.
Guest Talk, Callander Hostel, 3.30-4.30pm, Prof. Giles Hammond.
From Jupiter to GPS: The story of Navigation and the Quest to Measure Longitude. Join Prof Giles Hammond for a journey about the measurement of celestial time from the use of the Jovian satellite of Jupiter to modern GPS.
Film Screening, Callander Hostel, Doors at 6.30pm, film starts at 7pm.
Join the Callander Film Society for a screening of Ad Astra. (Cert 12A). Ad Astra is a science-fiction drama starring Brad Pitt in which an astronaut agrees to go on a mission in search of his father who is believed to be lost in space. Running time is 123 minutes.
Sunday 15th March 2020
Guest Talk, Callander Hostel, 2-3pm, Dr Alastair Bruce
Apollo 50. The 'how' of getting to the Moon and back. It's been 50 years since a human first stepped on the moon after the Apollo 11 mission. Find out more about this historic achievement with the help of a Lego model of the Saturn V and have those conspiracy theories debunked!
Photographing the Night Sky, Callander Hostel, 3.30-4.30pm
Join Douglas Cooper from Stirling Astronomical Society to learn how to photograph the sky above us. Whether you are already a keen photographer or an interested beginner come along and find out more about composition, kit and camera settings!
Wonders of the Cosmos, 6pm – 7.30pm, Callander Hostel
Explore the night sky with the team from Cosmos Planetarium. Learn how to find your way using the stars, locate planets and much more in this fun interactive talk. There will also be time to get your cosmic questions answered.
Stargazing Evening, 8-9pm, Callander Hostel Garden
Wrap up warm and come along to observe the night sky. There will be experts on hand and telescopes for you to enjoy a close up view of our night sky. No booking is required, but please note this event will only go ahead weather permitting. Please check Callander's Landscape Facebook and Twitter pages for more information on the day.