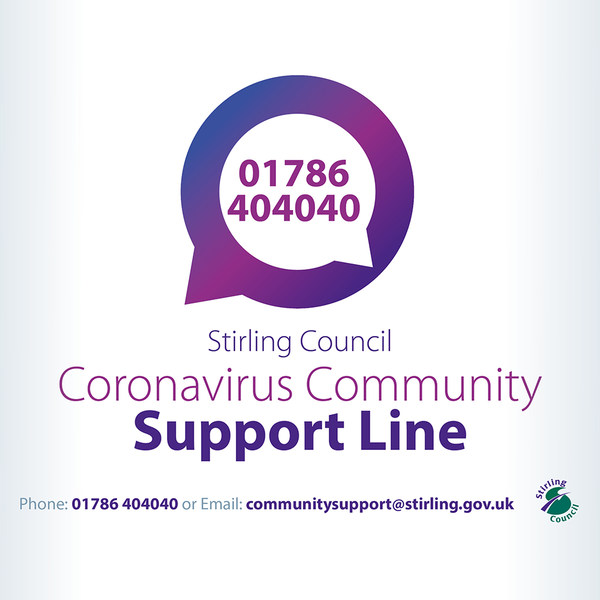 Coronavirus - Keep Safe
Symptoms
High temperature or fever;
A new, continuous cough;
Shortness of breath;
A lost of taste or smell.
If You Have The Symptoms
If you are displaying any of the above symptoms you should immediately self-isolate and take immediate steps to book a test. You can do this by going to www.nhsinform.scot or, if you can't go online, by phoning NHS24 on 0800 028 2816.
You will be informed of the results of the test as quickly as possible. If the result is negative, you may stop self-isolating. If they are positive, you will be asked to self-isolate for 14 days, as will other members of your household. You will then be contacted by 'Tracers' who will ask you who you have been in contact with.
You should phone 111 if:
Your symptoms worsen during home isolation, especially if you're in a high or extremely high risk group;
Breathlessness develops or worsens, particularly if you're in a high or extremely high risk group;
Your symptoms haven't improved in 7 days
If you have a medical emergency, phone 999 and tell them you have COVID-19 symptoms.
The current rules are:
The Scottish Government's Guidelines remains as staying at home where possible, maintaining physical distancing at all times and continuing to observe good hand hygiene.
The following changes to Scotland's lockdown restrictions were announce on 28th May:
From 29th May, one household can meet up with another outdoors. This can be in one household's garden or other open space, but physical distancing is still required. It is expected households will only meet one other household within the same day and up to a recommended maximum of eight people in the overall group.
From 29th May, public outdoor spaces can be used for recreational purposes, for example to sit in a park, sunbathe or have a picnic. People should not share food and drink between households and should avoid using shared facilities, such as bathrooms. If eating, each household should bring their own food separately and avoid sharing utensils, dishes or cups and use a hand sanitiser before eating. Physical distancing between households should be maintained at all times.
From 29th May, you can travel short distances for outdoor leisure and exercise but should remain in your local area, suggested to be five miles from your house, although people are asked to use their judgement. People are encouraged to walk, wheel or cycle where possible.
From 29th May, most outdoor workplaces can resume with physical distancing measures in place once guidance is agreed, including horticulture, landscaping and garden centres, forestry and environmental management. Associated cafes should not reopen at this stage except for take-away and physical distancing measures should be followed.
From 29th May the construction sector is expected to be able to implement the first phase in its restart plan. A move to 'phase 2' of the construction sector's plan will follow consultation with government to ensure it is safe to do so in line with public health advice.
From 29th May, food outlets, restaurants and cafes are able to provide delivery, take-away and drive-through food options in line with guidance and complying and safe physical distancing measures.
From 29th May, unrestricted outdoor exercise and some non-contact outdoor activities within the local area – such as golf, outdoor tennis and angling – can resume provided physical distancing is followed. It does not mean that taking part will always be safe. You should use judgement and take part only if you can do so safely, maintaining physical distancing and not putting yourself or others at risk.
From 1st June, Household Waste Recycling Centres will begin to reopen. Sites must operate safely, ensuring physical distancing is maintained, and should only be visited when absolutely necessary to minimise journeys.
From 1st June, staff can return to schools subject to risk assessments and appropriate physical distancing and hygiene measures being in place to support this. This is to plan and prepare for the new blended model of learning to be implemented from 11 August.
From 3rd June, child minding services and fully outdoor nursery provision will be available, although capacity will be limited. Both measures will be subject to increased hygiene measures, small group working and physical distancing of adults.
The UK and Scottish Governments and Stirling Council have further advice on their websites, see links below:
How to access support in Scotland if you have been affected by COVID-19